We provide expert Business / Academic Library Relocation with the expertise and resources to plan and implement the most effective library moves.
Library Relocation Services
FREE Site Survey, FREE Quotation and FREE advice
Developing a detailed move plan
Cataloguing stock (Books/Multimedia etc.)
Sequential packing and unpacking at destination
Interfiling and integration
Dismantling/erection of library shelving and library furniture/fittings
Crate hire for books, office equipment and computers
Acid-free packing materials
Coloured identification labels
Nationwide and International service
Moving of specialist collections, artefacts, rare books, and fine art
Recycling and Re-Use of unwanted stock
Environmental disposal of unwanted media
Specialist Storage – We provide an Indoor containerised Storage System that is temperature controlled. Secure storage environment to ensure zero degradation of materials in storage
7 days a week service, including night-work
Some Questions Our Surveyor May Ask:
Are books going from Shelf to Shelf? – variations in shelf size 750mm-900mm
Continuous sequence?
Oversized books
Reconfiguring?
Expansion or reductions
Triple-check: given linear measurement + book-stock number, then a shelf counting exercise by our surveyor
Other Library/Collection Relocation Services:
Hanging Files – e.g. Regular works for the NHS and X-Ray filing Systems
Blood/Tissue Samples – Refrigerated and frozen, to be kept at specific temperatures with little or no fluctuation
Gun Collections, Medal Collections – Museum collections individually tagged. Items placed in the museum display or archived as appropriate.
Fine Art Collections and artefacts – Tagged then displayed or archived as required.
"Specialised Movers excel in all aspects of our work and are the UK's leading library removals company.

We are a specialised library mover – with the flexibility and resources to overcome any challenges in relocation.

Our library services are available to the public sector, educational/academic sector (schools/colleges), private and commercial libraries.

We are proud to have a long list of extremely satisfied clients providing positive testimony to our high quality library moves."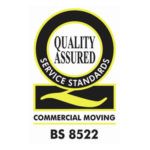 Quality Assured Business / Academic Library Relocation
We provide only uniformed staff who complete, and work in accordance with, risk assessments. The BS 8522 Standard is now becoming a key question when actively finding and servicing work. We were actually one of the first companies in the UK to achieve this Standard!
Some of our Successfully Library Relocations
National Library of Qatar – Doha, Qatar
Manchester Metropolitan University – Manchester
Salford University – Greater Manchester. Movement of in excess of a million book and journal stock, plus movement of all existing shelving and return of stock after fit-out. Paul Simpson, the Project Manager at Specialised Movers became a stakeholder manager detailing day-to-day migration of book stock and liaising with the client throughout the project.
Central St Martins College Library – London
Newbury Library – Newbury, West Berkshire. 1322m of book stock pack and store on site at Specialised Movers in Sheffield, return and replace after fit-out
Witney Library – Witney, Oxon
Brighton Library – Brighton, East Sussex
American University – London
Norwich Library – Norwich, Norfolk
Northampton Central – Northamptonshire. Movement of 1100m of book stock store on site, and return after fit out.
Kingston Hospital Library – Kingston upon Thames, Surrey
Spurgeon College Library – Croydon, London. Movement of 3000m of book stock store, on site return and replace
Church Mission Society Library – South East Oxford
Roehampton Library – Wandsworth, London
Pershore College Library – Pershore, Worcestershire
University of Wales Library – Lampeter, Ceredigion, Wales
The Geological Society – Picadilly, London
Kingsbury Library – Brent, London
Warwick University Library – London
New Cripps Library – Northamptonshire
Cardinal Pole School Library – Bracknell, Berkshire
Nottingham Trent University Library – Nottinghamshire. Movement of 5600m of book stock, return to Specialised Movers storage in Sheffield, then return to University
Pangbourne Children's Library – Reading, West Berkshire. 475m of book stock packed and returned to Specialised Movers storage in Sheffield, then returned after fit-out
Aylesbury College Library – Aylesbury, Buckinghamshire
Bracknell Library – Bracknell, Bracknell Forest of Berkshire, 400m of book stock from various locations centralised to one new purpose built hub
London College of Communication – London