We provide expert Business IT/Telecoms Removals with the expertise and resources to plan and implement the most effective IT moves.
Cable Management services to ensure that all your relocated equipment complies fully with current Health and Safety at Work regulations with regard to VDU/Workstation assessment and cable-routing criteria.
Server and Data Storage Relocations.
Network Patching Services – working to a pre-determined patch plan if required.
Portable Appliance Testing – ensuring that your new office is compliant with all Health and Safety requirements.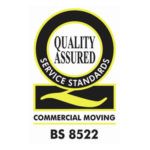 Quality Assured Business IT/Telecoms Removals
We provide only uniformed staff who complete, and work in accordance with, risk assessments. The BS 8522 Standard is now becoming a key question when actively finding and servicing work. We were actually one of the first companies in the UK to achieve this Standard!
"All this will be completed to a prior agreed timescale to ensure that re-connection is in line with your departmental and business needs."