We provide expert Business Museum / Art Removals with the expertise and resources to plan and implement the most effective Museum moves.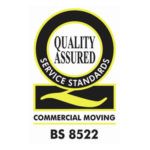 Quality Assured Business Museum / Art Removals
We provide only uniformed staff who complete, and work in accordance with, risk assessments. The BS 8522 Standard is now becoming a key question when actively finding and servicing work. We were actually one of the first companies in the UK to achieve this Standard!
Specialised Movers understand that each Museum is unique and has it's own requirements.
We work closely with the Curator as they know their museum and artefacts better than anyone. We take great care in listening and learning so we can tailor our techniques. We use the packing, wrapping, lifting equipment and protective relocation techniques to meet the exact needs.
When undertaking Museum Moves, detailed move plans need to be drawn up and strictly followed. Great care is taken when packing, wrapping and transporting items. All Specialised Movers' staff are trained and experienced in moving fine art and vulnerable museum pieces.
Our vehicles are on air-ride suspension, providing a smoother journey and are also equipped with tail-lifts to ease loading and unloading. We also have specialist lifting equipment such as; lorry-mounted cranes, spider cranes and stair robots.
Specialised Movers also provide relocation services for private collectors. Our service is bespoke and discreet; we have the ability to transport single items or collections.
" Whether it is an item, a collection or an entire museum relocation, we have a proven track record in moving delicate items safely and successfully both nationally and internationally. "

John Turner
Project Manager for Museums and Artefacts