We provide expert Business Safe / Cabinet Removals with the expertise and resources to plan and implement the most effective safe / cabinet moves.
Free site Surveys, free quotation with no obligation.
The type of safe, its manufacturer and model
The location and access/egress route
Will it fit through doorways
Are there steps or staircases
If there is a lift, will it manage the weight
Is the safe bolted to the floor
Site protection
Times when access is not possible for security reasons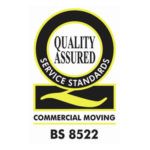 Quality Assured Business Safe / Cabinet Removals
We provide only uniformed staff who complete, and work in accordance with, risk assessments. The BS 8522 Standard is now becoming a key question when actively finding and servicing work. We were actually one of the first companies in the UK to achieve this Standard!
"We move any large heavy items, whether; a safe, fire-proof cabinet, or even a communications cabinet. Contact Specialised Movers for the best rates and a safe and hassle-free service.

Our safe specialists are experts in moving safes which is important because as this is a very skilled process. We use specialist lifting techniques that adhere to health and Safety Legislation."