Small or large Office / Premises Business Removals locally or another country, we have the expertise and resources to implement successful office moves.
Free site Surveys, free quotation with no obligation.
Tailored service to match your exact requirements and budget.
Packing service provided or delivery of packing materials to you to complete your own packing.
Working to pre-set timetables.
Environmental Solution to unwanted furniture and also electrical items.
Transportation using our secure, tracked, liveried vehicles.
Tail-lift vehicles for loading and unloading.
Working to floor and desking plans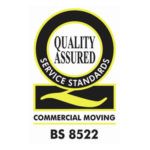 Quality Assured Office / Premises Business Removals
We provide only uniformed staff who complete, and work in accordance with, risk assessments. The BS 8522 Standard is now becoming a key question when actively finding and servicing work. We were actually one of the first companies in the UK to achieve this Standard!
"We pay great attention to detail and changes in the scope of works, and always aim to provide quick responses to extra instructions from the client," John says.

"Our managerial staff are contactable 24/7 and will often work on site themselves, even on weekends. Our front line operatives are all experienced, friendly, positive and hard working. We do not sub-contract any of our removal duties. This over a period of time always wins over repeat customers."